Wildau, GERMANY / 17 April 2017 — In a joint announcement between Vessel Co., Ltd., and Flight Design, the companies debuted their new KLA-100 low-wing, light aircraft. The introduction occurred at Aero Friedrichshafen 2017. First flights of the new model happened only days earlier.
The KLA-100 development program has been going quietly for two years and the debut was one of the surprises of Aero 2017.
"The first flight was performed in Sumperk, Czech Republic in late March with test pilot Richard Ponizil at the controls. Since that time the plane has made seven more flights and met all expectations," said Flight Design COO, Daniel Gunther.
The KLA-100 is a brand new design destined to be certified as a Light Sport Aircraft for sale in countries that accept ASTM Compliant aircraft, as a CS-LSA certified aircraft. This will allow access to virtually every major aviation market in the world.
"The program is a collaboration, between Vessel Co., Ltd., of South Korea and Flight Design," stated Matthias Betsch, CEO of Flight Design GmbH. "Our engineering staff has worked closely with the Vessel Engineers to develop the KLA-100 and they will work together to certify the plane in Europe and South Korea." "Vessel CEO was present for the ground testing and first flight of the KLA-100," said Mr. Kiman Seo, CEO of Vessel Co., Ltd. "Vessel is running a parallel development and flight test program in South Korea to gather as much experience for certification in Korea." The KLA-100 wing is a tour-de-force of modern aeronautical design. A high aspect ratio wing planform is used to reduce drag and increase climb, a new proprietary airfoil has an improved coefficient of lift and reduced drag through a greater percentage of laminar flow. The Stall-Safe drooped leading edge is designed to keep the airflow attached at the tips, promote post-stall aileron control and resist spins. The long-span slotted flaps feature another proprietary airfoil developed in South Korea to slow the KLA-100 for low landing speeds and gentle stalls. The wide chord ailerons allow precise control and minimal adverse yaw. The blended winglets round out the wing tips and reduce drag, increase climb and give the KLA-100 a distinctive ramp presence. The powerplant is the 74 KW (100 HP) fuel injected Rotax 912iS, a Garmin G3X avionics suite is built around dual Garmin G3X EFIS and EMS screens combined with a Garmin GTN-650 MFD, Garmin GTX-335 Mode ES ADS-B out transponder and optional Garmin 2 axis autopilot. A Stratos Magnum 601 advanced AEPS rescue system is integrated into the airframe. Flight Design and the Vessel Co., Ltd., engineering staff created the KLA-100 with safety, performance and comfort in mind. A new aircraft should employ modern construction techniques for many reasons. The cockpit's carbon-aramid composite safety cell helps to protect you and your passenger. The engine mount and carbon fuselage attach points reduce the possibility of engine intrusion into the occupant's safety cell. For more information please go to:
www.vessel21.com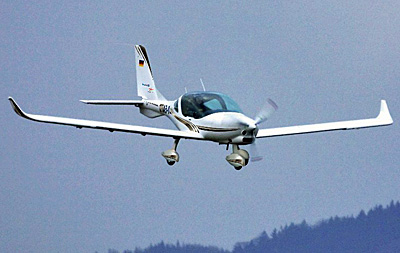 •  •  •  •  •
Contact Info
CONTACT INFO:                   Web: www.flightdesign.com
Flight Design GmbH i.I.       Commercial Register: Cottbus HRB 12503 CB
Schmiedestr. 2                        VAT ID No.: DE 147857992 D-15745 Wildau
Board of Directors:                Matthias Betsch (CEO), Daniel Günther COO GERMANY
Receiver:                                  Knut Rebholz — knut.rebholz@moenning-partner.com